HONEY
Our hives are located here in Western Washington. We have two kinds available for your enjoyment, Blackberry and Wildflower.  The Blackberry nectar flow is the major honey producing flow in Western Washington, and produces a darker and stronger flavored honey. The Wildflower happens in the spring and is a mixture of many different types.  Call to check on availability.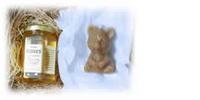 Wildflower  Honey and Candle
1 Nine-ounce Jar with small beeswax candle
Shipping Weight 2 lbs
FC - $11.95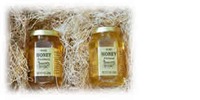 Blackberry Honey or Wildflower Honey
2 Nine-ounce Jars
BB2 - $13.95 or FW2 - $13.95
Shipping Weight 3 lb.  Additional Items
Available for local pickup only, we also have: one pound squeeze skep - $4.50; 3 pound jug - $14.50, bulk in your own container - $4.50 a pound.  There is no sales tax on honey when not gift boxed. Please call 360-866-7708 to place your order and arrange for pickup.
Uncapping a frame of honey using an uncapping fork.