Welcome to Four B's Farm.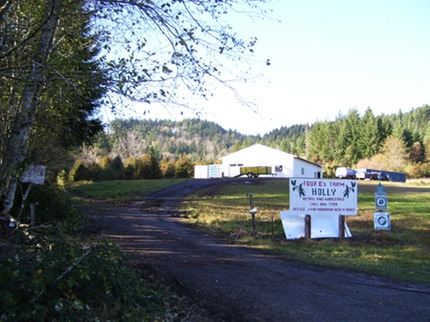 Four B's Farm is located west of Olympia, Washington on Highway 101. The property is near the southern-most waters of Puget Sound.  Business owner Robert Bower is a retired Coast Guard officer who returned to Olympia with his family after his 1988 retirement.
  HOLLY - We produce both Variegated and Old English (dark green) Holly both in bulk and in individual boxes for shipping to you for your holiday enjoyment. 
 WREATHS - We have individually hand made Noble Fir  and Western Red Cedar wreaths decorated with cones and accented with variegated Holly.  We also have a Old English and Variegatged Holly Wreath.
 HONEY - We produce  of Honey from local nectar flows, Blackberry is all that is presently available.
HAND TURNED WOOD ITEMS - We have hand turned wood items which include bowls, ornaments, pendants, and platters.
ALL OF OUR PRODUCTS CAN BE ORDERED AND PICKED UP LOCALLY.  Same prices with sales tax applied, but no shipping and handling charges.  Call us at 360-866-7708 to place your order and arrange a pick up. A list of our site contents are below.  Click on a link to see our products.
*